THE IMAGE OF THE BEAST
Saturday to Sunday... the big change. Revelation 13:11-15 shows that the UNITED STATES shall excercise the power of the previous beast (Papal Rome) and shall legislate mandatory sunday worship.

When the U.S. passes these nationwide Sunday Blue Laws, then they will have formed the image to the beast.

During the Truman presidency when the United States attempted to send a representative to the Vatican, there was a huge outcry, but on January 10th, 1984, the United States established formal diplomatic relations with the Papacy, and few Americans cared or objected. The Papacy that suffered its "deadly wound" in 1798 is coming back to life, just as Revelation 13:14 said it would happen.

The United States looks at Europe and sees how dangerous the Soviets are with their nuclear arsenals, then sees a "peace-loving" Pope. So this generation of Americans doesn't think the Pope is "dangerous."

Now that we've become bed-fellows with the Papacy, the Soviet threat has started to fade. "..look at how much better things are getting..."

Christ watches mankind trample His Holy Sabbath...

When America's Christians enforce nationwide Sunday worship, they will be uniting with the Roman Catholic Church and the Papal Day of Worship. Transfering the worship of God from Saturday over to Sunday was, in the Catholic Church's own words, "a mark" of her power. Therefore: Sunday worship is the mark of the beast.

Don't believe it? ...here it is in their very own words.

C. F. Thomas, Chancellor to Cardinal Gibbons, wrote this in answer to a letter regarding the change of the Sabbath: "Of course the Catholic Church claims that the change was her act. And the act is a mark of her ecclesiastical power and authority in religious matters." [ countless Catholic documents state and restate this fact. ]

Is the resurrection a sufficient reason for Sunday worship? No. The Lord's supper happened on a Thursday night, but we don't celebrate it every Thursday, and Christ's Atoning Death took place on a Friday, but we don't say "every Friday is a sacred day..." Christ designated that His death, burial, and resurrection should be symbolically commemorated in the rite of baptism, not Sunday Worship. [ROM 6:4-6]

The Bible clearly states that only one day was ever consecrated and commanded for mankind to observe. The 7th Day Sabbath. [See Genesis 2:13 and Exodus 20:8-11]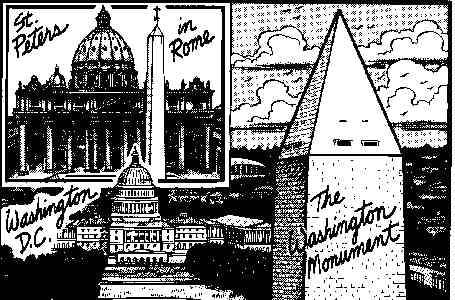 Even the architectural "resemblance" between St. Peters (the church of Rome) and the U.S. Capital building (Washington D.C.) are close enough to be noticed by any child. And isn't it interesting how both have obelisks (Washington monument for the Capital) planeted right there in front of themselves? Obelisks, the ancient monuments to sun worship.
From the first came the 1260-year rule of the little horn power, the beast, and from the second comes the lamblike country that eventually speaks like a dragon and exercises the power of the first beast.
Now this next point is very, very important: NO ONE HAS RECEIVED "THE MARK OF THE BEAST." UNTIL THE UNITED STATES LEGISLATES MANDATORY SUNDAY OBSERVANCE, AND TELLS PEOPLE THEY CAN'T "BUY OR SELL" WITHOUT RESTING ON SUNDAYS. [REV 13:17]
Even if you disregard every single match from prophecy to history, you can sit back and watch. Just as all the other things seemed so impossible at the time, some event will come in the future which will make the mandatory Sunday worship seem like a valid thing to do. This is a future check, a prophecy that we can wait to see happen, although it may take a few years.
---